Why Cobalt is the Metal Du Jour and of Tomorrow
If you follow the mining industry Media, you'll have noted that cobalt has been getting a lot of attention recently. In fact, when we (Cobalt 27), announced the successful closing of our financing, every publication from Bloomberg, to The Northern Miner and The Mining Journal, was hammering on our door for an interview.
Why all the interest? The answer lies both in the explosive demand for the metal from electric vehicle battery sector and in cobalt's unique supply-side issues.
For those of you new to the sector, let's start with the basics: Cobalt is a grey and shiny, ferromagnetic metal with a very high melting point (1,405°C). While you may have heard of its importance as a battery metal, it actually has many uses, including:
EV and other Batteries (Lithium-ion, Ni-Cd and Ni-metal hydride batteries
Electronics (integrated circuits, semiconductors, magnetic recording, etc.)
Superalloys (used in turbines, jet engines, nuclear reactors, power plants, etc.)
Machinery (drills, grinding wheels, seals, valves, etc.)
Colouring and pigments (primarily used in ceramics)
Agriculture (cobalt salts used in cattle and sheep feed)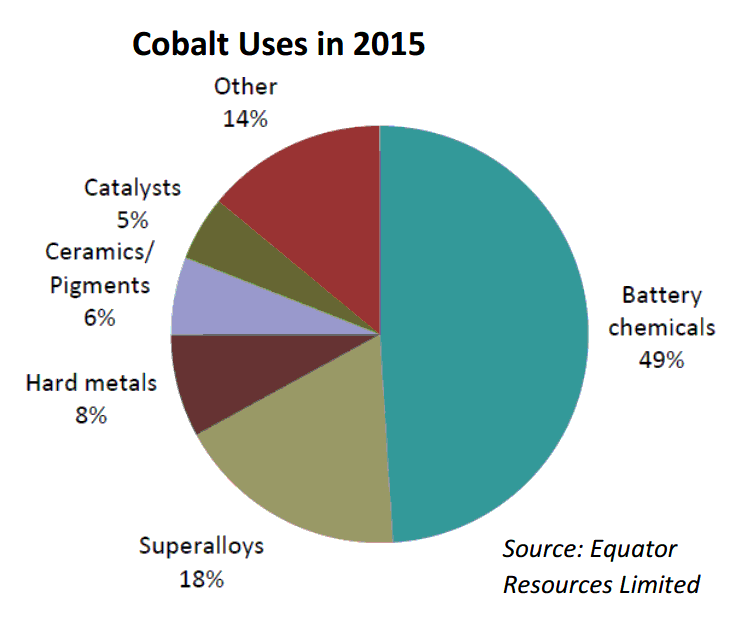 While cobalt is important material for many products and industries, it excels as an electrode and has become an indispensable material in batteries. If you're not familiar with the direction of the battery industry, all you need to do is think of a steep, upwards curve. To help you visualize, let me throw some stats at you:
EV (Electric Vehicle) Growth: Production growing +45%/yr1
Battery Growth: Estimated +500% battery consumption over next 10 yrs1
The Rise of the Gigafactories: ~230 GWh of capacity expected from up to 20 battery facilities at a cost of ~US$10 billion Mass Market Penetration: Over 120 models of EVs expected by 20202
Mass Market EV Penetration: Over 120 different models of EVs expected by 20203
Consumer awareness: Tesla Model 3 pre-orders, were higher, as a percentage of annual auto sales, than iPhone orders were, as a percentage of annual smartphone sales
The Rise of the Electric Vehicle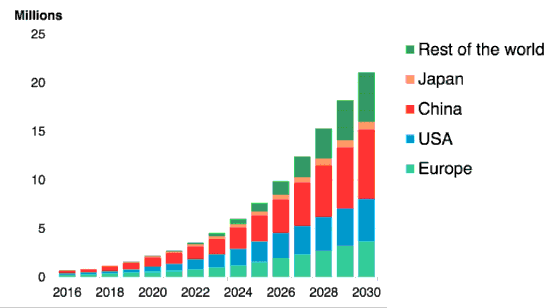 Now, the same growth story holds true for lithium and other battery materials, so why should cobalt be getting so much investor interest at this time? The answer lies on the supply side.
Cobalt is found throughout the world but typically in such low concentrations that it is uneconomical to mine alone. This means that pure-play cobalt mines are rare. Most cobalt production therefore comes as a by-product of other forms of mining - principally nickel and copper. This, of course, is where it gets interesting because what drives major growth in the nickel and copper markets is not necessarily what drives growth for cobalt.
Cobalt's status as a by-product means that most producers cannot easily increase production, despite rising demand, because doing so means they must increase production of their primary ore - be it nickel or copper. It has also meant that, to get exposure to cobalt, most investors have had to invest in nickel and copper mines.
So, what we have here is a metal with strong demand but restricted supply and few options for direct investment. In future posts, I'll delve deeper into these fundamentals to show why Cobalt 27 has been formed to give investors pure-play exposure to this unique sector.
If you have any questions, be sure to get in touch.
Anthony Milewski, Director, Cobalt 27
1 Deutsche Bank
2 Benchmark Minerals
3 Bloomberg
Forward-Looking Information: Some of the posted entries on the CEO Corner may contain forward-looking statements. Forward-looking statements address future events and conditions which involve inherent risks and uncertainties. Actual results could differ materially from those expressed or implied by them. Examples of forward looking information and assumptions include future estimates of the worldwide supply and demand for cobalt and other metals and the effect that these changes could have on the short term and long term price of cobalt and other metals on the world markets, statements regarding the future operating or financial performance of Cobalt 27 including the net present value, metal recoveries, capital costs, operating costs, production, rates of return and payback. Forward looking statements involve known and unknown risks and uncertainties which may not prove to be accurate. Such statements are qualified in their entirety by the inherent risks and uncertainties surrounding future expectations. Among those factors which could cause actual results to differ materially are the following: market conditions and other risk factors listed from time to time in our reports filed with Canadian securities regulators on SEDAR at www.sedar.com.

In some cases, forward-looking statements can be identified by terminology such as "may", "will", "should", "expect", "projects", "plans", "anticipates" and similar expressions. These statements represent management's expectations or beliefs concerning, among other things, future operations and various components thereof affecting the economic performance of Cobalt 27. Undue reliance should not be placed on these forward-looking statements which are based upon management's assumptions and are subject to known and unknown risks and uncertainties, including the business risks discussed above, which may cause actual performance and financial results in future periods to differ materially from any projections of future performance or results expressed or implied by such forward-looking statements. Accordingly, readers are cautioned that events or circumstances could cause results to differ materially from those predicted.

Links: Some of the posted entries on the CEO Corner may include links to 3rd party websites. Cobalt 27 has not reviewed all websites linked to or from this Site and is not responsible for the contents of any such websites. The inclusion of any link does not imply endorsement by Cobalt 27 of the linked website or its content. Use of any such linked website is at the user's own risk.
For further information we refer you to our legal notice.